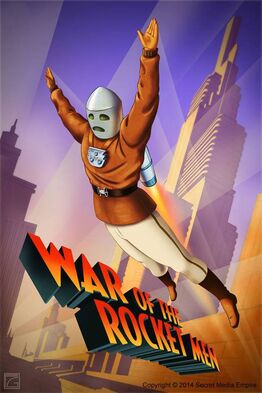 War of the Rocket Men was a proposed animated television series that would have headed by John Semper Jr. and would have reunite all of the major cast members from Spider-Man: The Animated Series. As of 2018 it appears that all plans for War of the Rocket Men have been canceled.
Synopsis
During World War II the Rocket Men were a secret squadron protecting the skies of America from spies, saboteurs and other agents of destruction. They employed a top secret technology that allowed man to defy gravity with the aid of a futuristic jetpack. They were the Rocket Men, and theirs was a battle no history book has yet to record. But when a band of fliers armed with a similar Nazi technology threatens to invade the U.S.A., a secret was ensues that threatens freedom and democracy. And as airmen take to the skies to stage this battle of the millennium, thus begins the. . . WAR OF THE ROCKETMEN!
Cast
Trivia
War of the Rocket Men is a proposed animated series that will be wholly financed by crowd-funding, with a campaign that began on April 27, 2016.
The crowd funding ended on June 12, 2016 and a total of $17,655.00 was raised giving John Semper Jr. enough money to create a presentation for the pilot.
Frank Grau was asked to design the characters of War of the Rocket Men in the style of the 1940's Superman cartoons which were produced by Fleischer Studios and Famous Studios.
Comic book artist, Will Meugniot drew a birthday card for John Semper Jr. which combines Spider-Man with War of the Rocket Men, and Jay Jay the Jet Plane which Semper developed and produced for PBS preschool television.
Gallery
Videos
External links