After the season five finale, John Semper Jr. hoped that the Spider-Man: The Animated Series would be picked up for another season. However, when executive producer Avi Arad and the head of Fox Kids, Margaret Loesch got into an argument Loesch had the series canceled. John Semper Jr. had ideas for episodes that would have been produced had the series gotten renewed.
Proposed ideas for season six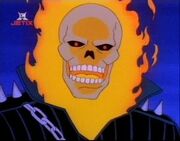 Mysterio would have been revealed to be alive and in possession of the Time Dilation Accelerator. Mysterio would have used the Time Dilation Accelerator to open a portal to another dimension and bring Dormammu into our world. Spider-Man would have then teamed up with Ghost Rider to defeat both Dormammu and Mysterio.
The villain, Beetle might have appeared in an episode.
Norman Osborn would have returned from limbo and took back the roll of the Green Goblin from his son, Harry.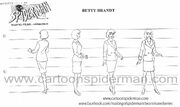 Betty Brandt would have been introduced as Joe "Robbie" Robertson's assistant and she would have had a crush on Peter Parker. Character designs were created but she was never introduced. Her name was also spelled Betty Brandt instead of Betty Brant.