New York City is a major metropolitan city located on the eastern coast of the United States of America. This New York City is located on Earth-92131.
Locations
Xavier Mansion: Located 41 miles outside of New York City in Westchester County
Residents
Alternate realities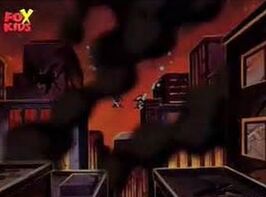 On Earth-98311, New York City was devastated by Spider-Carnage, Hobgoblin and Green Goblin.
On Earth-31198, New York City was almost identical to the one Peter Parker lived in. The one major difference was that the Peter Parker from this reality was a multi-billionaire and he had a building in New York City called the Peter Parker Science Foundation.
The final alternate reality shown in Spider-Man: The Animated Series, Earth-38119, was the real world which is where Stan Lee lived. In this reality, Spider-Man was a fictional hero created by Stan Lee for Marvel Comics.
Trivia