New York City is a major metropolitan city located on the eastern coast of the United States of America. This New York City is located on Earth-92131.
Locations
Central Park Zoo

Bethesda Fountain
Residents
We're going to rebuild it, bigger and better than before. The main thing is it's mine again.


It has been requested that this article or section be expanded.
If the article or section is made to a reasonable length, please remove this template.
Alternate realities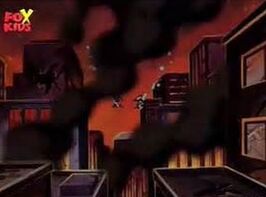 On Earth-98311, New York City was devastated by Spider-Carnage, Hobgoblin and Green Goblin.
On Earth-31198, New York City was almost identical to the one Peter Parker lived in. The one major difference was that the Peter Parker from this reality was a multi-billionaire and he had a building in New York City called the Peter Parker Science Foundation.
The final alternate reality shown in Spider-Man: The Animated Series, Earth-38119, was the real world which is where Stan Lee lived. In this reality, Spider-Man was a fictional hero created by Stan Lee for Marvel Comics.
Trivia
New York City, as depicted in Spider-Man: The Animated Series, was as geographically accurate as the production staff could make it. All of the action was carefully worked out as if it was taking place in real life in an existing NYC environment.

Animation cels depicting Manhattan's Pan Am Building were scrapped after being complete because the California-based art staff learned the Midtown landmark had been given a new sign more than a year earlier.