This is starting to sound like a bad comic book plot


This character is non-canon to Spider-Man: The Animated Series.
Do not categorize this page under Heroes, Villains, Supporting characters, Spider-Man: TAS Heroes, Spider-Man: TAS Villains, Spider-Man: TAS Characters or Earth-92131 characters.
This version of John Watson is from another dimension. As with all versions Watson across the multiverse, he is a doctor and assistant to Sherlock Holmes.
History
When Mary Jane Watson was transported to another dimension, Spider-Man and Madame Web went looking for her and ended up in 19th century England.
To help find Mary Jane, Spider-Man tracked down Sherlock Holmes and asked for his help. Holmes deduced that Mary Jane was at Whitechapel. As Peter left Holmes office, Sherlock Holmes saw mud, red paint, and tar on Peter's shoes and deduced that the only way Peter could have gotten those things on his shoes is if he somehow scaled the wall of a nearby building. Sherlock Holmes and Watson then followed Peter to investigate him.
In the comics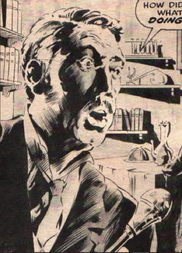 John Watson appeared in a Marvel Comics adaptation of The Hound of the Baskervilles.
In literature
John Watson studied medicine at St. Bartholomew's Hospital in London, receiving his medical degree from the University of London in 1878, and subsequently being trained at Netley Hospital as an assistant surgeon in the British Army.
Watson joined the British forces in India with the 5th Northumberland Fusiliers before being attached to the 66th Regiment of Foot, saw service in the Second Anglo-Afghan War, was wounded in at the Battle of Maiwand and suffered from a fever and was sent back to England.
In 1881, Watson is introduced to Sherlock Holmes, who is looking to share rent at a flat in 221B Baker Street. Watson later moved in with Holmes and learned he was a detective. In time, Watson and Holmes became close friends.
Watson later got engaged to Mary Morstan but she later dies.
Watson was a biographer for Sherlock Holmes.
Trivia
Community content is available under
CC-BY-SA
unless otherwise noted.