Anthony Joseph "Joe" Perry is the lead guitarist and occasional lead vocalist of Aerosmith. He performed the opening theme to Spider-Man: The Animated Series.
Biography
Early life
Joe Perry was born on September 10, 1950. He was born to the children of Portuguese and Italian immigrants. His grandfather changed the family's name from Pereira to Perry upon arriving in America. He has a younger sister named Ann-Marie.
Career
Joe Perry joined Aerosmith at it's formation in 1969. While initially dismissed as Rolling Stones knock-offs, the band became came into it's own during the mid-1970's with a string of hit records. During this time Joe Perry and and vocalist became known as the Toxic Twins for their hard partying and drug use.
In 1979 an argument backstage resulted in Perry's wife throwing a glass of milk at Tom Hamilton's wife. After a heated argument with Steven Tyler, Perry quit Aerosmith part-way through the recording of the album Night in the Ruts. After leaving Aerosmith Perry formed the band The Joe Perry Project. 
In 1984, Joe Perry rejioned Aerosmith and signed a new record deal with Geffen Records. That year Aerosmith embarked on a successful comeback tour called the "Back in the Saddle Tour."
Most recently, Perry emerged as a core member of new supergroup Hollywood Vampires, alongside Alice Cooper and Johnny Depp, with a new studio album of rock covers featuring many guest artist, including Paul McCartney and Dave Grohl. The group preformed live at the Roxy Theater in L.A. and at Brazil's Rockin Rio festival.
Trivia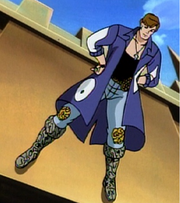 In The Alien Costume, Part I when Peter Parker learned the symbiote could transform into street clothes he made the symbiote change into the same kind of clothes worn by "That guy from Aerosmith."
Aerosmith preformed a rock version of the 1967 Spider-Man theme for the 2002 Spider-Man movie. It is possible that they were asked to record the song for the movie because the producers knew that Joe Perry preformed the theme song to Spider-Man: The Animated Series.
Joe Perry has a collection of about 600 guitars.
Joe Perry was ranked 84th on the Rolling Stones Magazine list of the 100 Greatest Guitarists of All Time.
He is in the Song Writers Hall of Fame.
He is left-handed but plays the guitar right-handed.
Video
Community content is available under
CC-BY-SA
unless otherwise noted.