This is starting to sound like a bad comic book plot


This character is non-canon to Spider-Man: The Animated Series.
Do not categorize this page under Heroes, Villains, Supporting characters, Spider-Man: TAS Heroes, Spider-Man: TAS Villains, Spider-Man: TAS Characters or Earth-92131 characters.
George Edward Challenger was an explorer.
History
When Spider-Man arrived in 19th century London to search for Mary Jane Watson who had been lost in limbo, he saw a newspaper that read "Professor Challenger Launches Expedition To Find Lost World".
In literature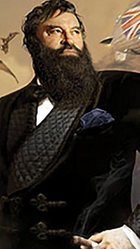 Professor Challenger was born in Largs, Scotland in 1863.
He studied medicine at the University of Edinburgh.
Dr. Challenger was appointed to an assistant position at the British Museum in 1892 and was promoted within a year to Assistant Keeper in the Comparative Anthropology Department. He held a professorship in Zoology and was elected president of of the Zoological Institute in London.
Challenger was also a pretentious and self-righteous scientific jack-of-all trades. His ingenuity could be counted upon to solve any problem and would offend and insult every person in the process. Challenger in many ways was rude, crude, and without social conscience or inhibition. Yet he was a man capable of great loyalty and his love for his wife was all-encompassing.
Challenger's wife, Jessica, later died from influenza. Challenger's friend and biographer, Edward "Ted" Dunn Malone later married Challenger's daughter, Enid Challenger in 1927.
Professor Challenger went on sever adventures. In one adventure he discovered a land in South America where dinosaurs lived.
Sometime after Jessica's death, Professor Challenger became obsessed with psychic phenomena and the paranormal.
Trivia
Community content is available under
CC-BY-SA
unless otherwise noted.