Donald "Don" Stark is an American actor known for his role as Bob Pinciotti on the long-running Fox Network sitcom That '70s Show for all eight seasons.
Biography
Personal life
Don Stark was born in New York City on July 5, 1954 and later graduated from Cleveland High School in Reseda, California, in 1972. While there, in addition to playing football he won leading roles in the theater arts department, portraying John in Dark of the Moon, Sky Masterson in Guys and Dolls, Tevye in Fiddler on the Roof, and, in an award-winning shakespeare Festival scene, the title role in Othello.
Don Stark's father, Alan stark (1924 - 2008), was of German-Jewish descent and an acto, and Don stark's mother, an "Italian-Catholic" woman, Debra Antorelli (1926 - 1993), was an actress who appeared on Broadway.
Career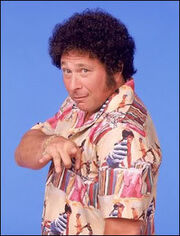 Stark has an extensive background in dancing, bodybuilding and martial arts. Don is probably best recognized as Bob Pinciotti, the bumbling father of Donna Pinciotti on the Fox sitcom That '70 Show. Stark also had a small role as a clerk in the 1988 comedy film Feds in a hunting store. He has also been a guest on Curb Your Enthusiasm, and had a small role in the Star Trek film Star Trek: First Contact. He also had a small role in an episode of Supernatural as a victim of a ghost that had been summoned by ritual to murder. He also guest starred on Viper, Disney Channel's Cory in the House, Stargate SG-1. He had a supporting role in the 1996 television series, Time Cop. In addition, he appeared in iCarley's movie: iGo to Japan as Freight Dog, the pilot who flies the gang over to Tokyo, Japan. Stark also appeared in the first episode of the 1987 TV series Beauty and the Beast as one of the attackers who puts Linda Hamilton's chracter "Catherine" in Central Park where the beast, or "Vincent", played by Ron Pearlman, finds her and helps her, which begins the series. He will appear as David in the film My Name is Jerry. He appeared as the Prime Minister of Russia in the episode of Corey in the House, "Air Force One Too Many." He is now currently playing the boss, Stan, in the web series Corey & Lucas For the Win. One of his more recent appearances was as a mobster in the episode of Castle, "Murder He Wrote." He also had a small, uncredited role as a principal in Anger Management, "Charlie Lets Kate Take Charge." Stark plays the role of Oscar Kincade in the television series Hit the Floor.
Roles
Credits
Actor