Christopher Daniel Barnes, also known professionally as C.D. Barnes and C.B. Barnes, is an American actor. He is best known for his role as the title character in Spider-Man: The Animated Series, Prince Eric in Disney's The Little Mermaid, as well as Greg Brady in The Brady Bunch Movie and A Very Brady Sequel. After Spider-Man: The Animated Series, Christopher Daniel Barnes appeared in various Spider-Man television shows and video games.
Biography
Early life
Christopher Daniel Barnes was born on November 7, 1972 in Portland, Maine. When Barnes was eight years old he began his acting career. As a child Barnes was a huge Spider-Man fan.
Career
He moved to Los Angeles where he starred in his first major film role in the 1984 movie American Dreamer. He worked for two years on the television series As the World Turns and in the television movie Picking up the Pieces.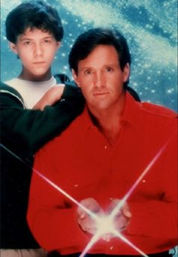 One of Barnes' earliest hits was as Scott Hayden in the television series Starman. His father in Starman was played Robert Hays who would later go on to voice Iron Man on Iron Man: The Animated Series and Spider-Man: The Animated Series. Barnes felt that Hays played a great father and was a good mentor to him. During this time columnists predicted a "big career" for Barnes.
In 1989, Christopher Daniel Barnes was cast as Prince Eric in the Disney movie The Little Mermaid, which he got when he was only sixteen. The producers cast him because he sounded much older. Barnes has said that The Little Mermaid is his favorit of all Disney movies. Barnes liked the idea that being in a Disney movie would last forever, something he could show his grandchildren.
He voiced several additional voices in Captain Planet and the Planeteers, that ran from 1990 to 1996.
Barnes is best known for playing Spider-Man on Spider-Man: The Animated Series. Barnes had to fight for the part. He joked that he bit and crawled the actors for the role. Barnes eventually got the part. He felt Spider-Man was was noble in that he acknowledges and admits his problems while overcoming them.
He enjoyed that the series got to be more serious than previous works like the Spider-Man series from 1967 and Spider-Man and his Amazing Friends.
After Spider-Man: The Animated Series, Barnes played Greg Brady in The Brady Bunch Movie and A Very Brady Sequal. During his breaks while filming Barnes would try to visit the sets of Star Trek: Deep Space Nine and Star Trek: Voyager but found security too tight.
From 1996 to 2000, Barnes played Leonard Rickets in Malcolm & Eddie.
In 2010, Barnes returned to play Spider-Man in the video game, Spider-Man: Shattered Dimensions. The following year he played Spider-Man 2099 in the video game Spider-Man: Edge of Time.
His credits span diverse genres of film and television over the course of more than three decades.
Personal life
At some point he married actress Dawn Nallick, but have since divorced. In 2012 he married Rebecca Guyadeen and are still together. He enjoys reading, writing short stories, playing the guitar, and practicing Yoga.
Roles
Credits
Actor
Spider-Man
Spider-Carnage
Scarlet Spider
(Silver Armor) Spider-Man
Octo-Spidey
(Six Arm) Spider-Man
(Actor) Spider-Man
Ben Parker
Chameleon (Disguised as Peter Parker)
Chameleon (Disguised as Spider-Man)
Trivia
Community content is available under
CC-BY-SA
unless otherwise noted.