Bob Richardson is an American animator, director and producer. He has had seven Emmy Award nominations and has won five of them. He directed all 65 episodes of Spider-Man: The Animated Series. Richardson was also a supervising producer on the series.
Biography
Bob Richardson is a graduate of California Institute of the Arts, with a degree in animation and film production in the entertainment industry.
After working on many highly acclaimed theatrical cartoons Bob Richardson recieved four consecutive Emmys and other awards. He won his fifth emmy after directing the tv series Tutenstein.
Richardson is also fine-tuning his original screenplay, "Metal-Morphosis," a post-apocalyptic, sci-fi, future world saga with three sequals already in the planning stages and a number of other projects that he's been creating during his career, including a recent PSA to encourage Film Incentives in North Carolina.
Roles
Credits
Director/Supervising Producer
Actor
Trivia
When Bob Richardson was hired he literally had to build his own studio. He hired the talent, found building space, and oversaw every last detail down to the hiring of carpenters to build the artists desks.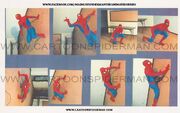 At the very start of production of Spider-Man: The Animated Series, while the production staff was still in the New World Building in West Los Angeles, supervising producer Bob Richardson hired an actor/acrobat to pose in a Spider-Man costume for action photos to be used as a reference for the studio artists.
While creating Spider-Man: The Animated Series, Bob Richardson was determined that the show would not look like Batman: The Animated Series, which at the time was a highly popular show.
As the supervising producer of Spider-Man: The Animated Series, Bob Richardson was in charge of designing the characters and locations.