Barbara Dale Goodson is an American actress and voice actress known mostly for her versatility in voicing original and budded cartoons.
Goodson is best known for voicing Rita Repulsa, Orbus, and Prince Sprocket in the Power Rangers franchise.
Biography
Early life
Barbara Goodson was born on August 16, 1949 in Brooklyn, New York.
Career
Barbara Goodson was the voice of Red Fraggle and Wingnut in Jim Henson's cartoon Fraggle Rock.
Power Rangers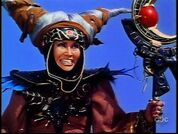 Barbara Goodson is best known for voicing Rita Repulsa in Mighty Morphin' Power Rangers, Mighty Morphin' Power Rangers: The Movie, Power Rangers Zeo, Turbo: A Power Rangers Movie, and Power Rangers In Space.
In addition to Rita Repulsa, she Barbara Goodson also voiced both Prince Sprocket and Orbus in Power Rangers Zeo (giving her at least three credits listed in the show's end credits).
She was also the female voice of Mandilok in Power Rangers Wild Force and Ladyborg in Beetleborgs Metallix.
Anime
As for her anime dubbing, she has an extensive list of credits. Shows such as HBO's Adventures of Tom Sawyer as Tom, Takkaman Blade as Star, Dragon Ball, Ghost in the Shell: Stand Alone Complex, Naruto as Granny Chiyo and Lady Shima and FLCL as Naota.
Awards
The series CloudBread in which she is a cast member as Wooley, Ruiz, Grandma and Teacher Ellie was nominated for Best Children's Programming in 2011 for an Annie Award. She was also awarded an Earphones Award for narrating Blair Clemons in the Time/Warner book On A Night Like This.
Barbra Goodson played Mother Talzin on Star Wars: The Clone Wars, for which she won a Best Actress award from Behindthevoiceactors.com
Personal life
In 1984, Barbara Goodson married Bruce Gustafson. The two of them currently live in Santa Monica, California. Together they had one child.
Roles
Credits
Actor
Community content is available under
CC-BY-SA
unless otherwise noted.